Canon Australia unleashes eight new large format print models with the introduction of the new imagePROGRAF TZ-30000 Series, and a refreshed imagePROGRAF TX Series.

Canon Australia today unveils a fresh line-up of 5-Colour Multifunction (MFP) and Single-function (SFP) large format printers, complete with a diverse range of solutions and newly-developed scanner accessories to meet the needs of high-production to entry-level businesses in the CAD and GIS markets[1].

Sitting at the helm of Canon's MFP line-up is the new 36-inch model imagePROGRAF TZ-30000 Series – a new category of production printer for Canon, comprising new technologies for high productivity, high-image quality prints, paired with the fastest print speeds of any imagePROGRAF to date. Optimised to be the ideal choice for customers in architecture, engineering, construction and manufacturing, as well as professional print service providers and copy shops; the imagePROGRAF TZ-30000 Series can be further enhanced with the optional addition of the newly developed Global Scanning Z36 scanner. Compared to its predecessors[2], the 36-inch wide Z36 scanner is reduced in size and weight for a more integrated feel and enhanced operability for end users.

Taking CAD, GIS and poster printing to a new level of productivity, Canon Australia today also updates its successful imagePROGRAF TX Series of large format printers with six new models: the 24-inch imagePROGRAF TX-2100, 36-inch imagePROGRAF TX-3100 and 44-inch imagePROGRAF TX-4100, plus the multifunctional imagePROGRAF TX-2100 MFP Z24, imagePROGRAF TX-3100 MFP Z36 and imagePROGRAF TX-4100 MFP Z36 – which are complete with the integration of the Global Scanning Z24 and Z36 scanners respectively. These new high-speed, high-capacity, multipurpose devices deliver unrivalled print quality, enhanced media handling and advanced security while maintaining a familiar 'Canon workflow' – ideal for architecture, engineering and construction (AEC) businesses, retail stores and in-house print departments.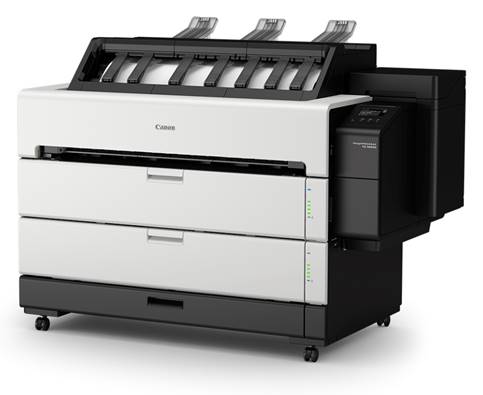 Introducing a new category of speed, productivity and image quality: Canon imagePROGRAF TZ Series

For fast-paced businesses working to tight deadlines, the new Canon imagePROGRAF TZ-30000 Series combines high speed output with a stack of features to support continuous productivity and efficiency. With excellent media handling and the scope to produce high-quality applications including CAD/GIS drawings, renderings, maps and posters, this robust printer is the ideal choice for customers in architecture, engineering, construction and manufacturing, as well as professional print service providers and copy shops. For an even more efficient workflow, the multifunctional imagePROGRAF TZ-30000 MFP Z36 integrates the printer with a precision scanner in one device.

Printing at speeds of up to four A1 CAD pages per minute[3], the new imagePROGRAF TZ-30000 MFP Z36 is the fastest in the imagePROGRAF Series. With 700ml high-capacity ink tanks and dual roll feeding, the printer maximises output and minimises downtime, comfortably handling production volumes between 300 and 500 square metres a month, supported by Direct Print Plus workflow management software and a high-capacity stacker holding up to 100 A0 sheets.

Designed for maximum productivity, the imagePROGRAF TZ-30000 MFP Z36 comes with 'hot swap' media rolls and inks, making it the first Canon imagePROGRAF printer to enable users to replenish media and ink on the fly during printing. The smart roll set takes the guesswork out of media loading: the user simply places the roll into the feeder and the printer does the rest. From the moment the print button is clicked, the first A1 CAD print can be in the user's hands within up to 19 seconds[4].

The CPP printer driver and CPP Publisher Select job submission tools help to achieve efficient printing with reduced misprints by monitoring the media width and the remaining amount of media before printing.

The imagePROGRAF TZ-30000 MFP Z36 uses Canon's superior LUCIA TD ink technology, enabling high-quality output from CAD drawings to maps and posters, on a wide range of coated and uncoated media. Fine black lines and text can be reproduced clearly and with minimal feathering, even on uncoated media. Furthermore, due to the weather resistance of the inks, vivid colours are prevented from fading, even when using plain inkjet paper.

Space-saving, ergonomic console design means that operations such as ink tank and media roll changes happen at the front of imagePROGRAF TZ-30000 Series models, while completed prints are removed from the top of the device.

The MFP Z36 model packs even greater functionality into a smaller footprint, thanks to the integration of a high-quality multi-function scanner with dual LED light source system. This MFP model is easy to install and particularly suited to smaller office spaces. It comes with a large free-position touchscreen with easy-to-use preview functions and rich image editing capability.

For optimum security, all file data can be erased from the hard disk once each print job is completed, and optional PIN code and interface security can be used to prevent unauthorised access.

Pricing for the new imagePROGRAF TZ-30000 and imagePROGRAF TZ-30000 MFP Z36 will be available through Canon and authorised dealers from June 2021. Product demonstrations will be available on request from June via Canon Australia. For more information, please click through to the product pages for the imagePROGRAF TZ-30000 and imagePROGRAF TZ-30000 MFP Z36.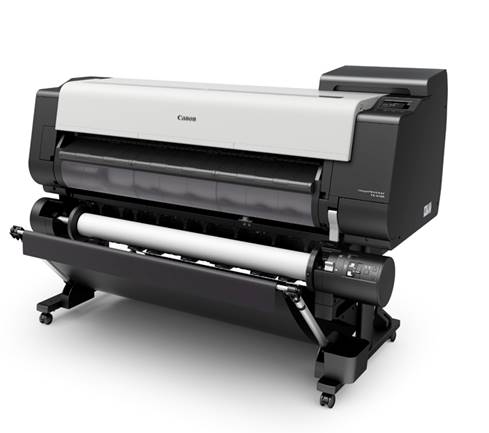 A new level of productivity, precision print, and vibrant colour: Canon imagePROGRAF TX Series

Whether printing vibrant, high-quality posters or multiple copies of high-definition CAD drawings, the new imagePROGRAF TX Series delivers borderless prints at the push of a button, either from a PC or direct from a USB stick. Quick start-up time and rapid processing eliminates delays, and with continuous high-speed printing at up to 3.2 pages per minute and no trimming required, productivity is assured.

Designed for absolute ease of use, when the roll of media is placed in the imagePROGRAF TX Series feeder, the printer automatically detects the media type and width, while the intuitive control panel with its 4.3-inch touchscreen gives accurate media information at a glance.

For high-volume jobs, a dual roll option supported by 'hot swap', high-capacity ink tanks enable up to 350 metres of uninterrupted printing from two rolls of the same media, or if needed, will switch between two rolls of different media types. The optional high-capacity, front-located stacker can hold up to 100 A0 prints and can be easily folded away when not in use to save space.

Maintaining its reputation for unrivalled print quality, the new imagePROGRAF TX Series combines Canon print heads and five-colour, full pigment LUCIA TD inks to deliver fine lines, pin-point text and vibrant colours even on plain paper – ideal for high-precision CAD drawings and posters. For prints that will be used outside, the inks offer excellent weather resistance and can be used with Canon's water-resistant media.

For fast, efficient scanning and printing, the multifunctional imagePROGRAF TX-3100 MFP Z36, and imagePROGRAF TX-4100 MFP Z36 models incorporate a newly developed, lightweight Z36 scanner that uses SingleSensor™ technology. This innovation saves time and performs an accurate, even scan across the full width, without the need for stitching or calibration.

According to Ted Matsumoto, General Manager – B2B Product Marketing, Canon Australia: "In developing our newest range of large format printers, we set out to address a number of industry needs, from users of low-end LED plotters to low-yield, high-quality production businesses. With the introduction of the imagePROGRAF TZ Series, we've brought forth a robust production solution that balances productivity and efficiency while significantly reducing large format print and finishing times to help customers deliver on the tightest deadlines. I'm certain that this latest addition to the imagePROGRAF family raises the bar for customers and will match the growing demands of any business needing streamlined and hassle-free large format print production.

"Furthermore, the initial imagePROGRAF TX Series released in 2018 has proved to be hugely popular with customers to date. Now, with growing demand for fast and flexible delivery of prints on demand, this newly improved line-up is optimised to customers' changing needs, with outstanding productivity features that enable faster and more efficient printing of posters and CAD/GIS drawings. From the imagePROGRAF TZ Series to the imagePROGRAF TX Series, I'm confident that our new large format printer line-up offers a model to meet the everyday large format print needs of any business."

Pricing for the new imagePROGRAF TX Series models will be available through Canon and authorised dealers from February 2021. Product demonstrations will be available on request from February via Canon Australia. For more information, please click through to the product pages for the:
· 24-inch imagePROGRAF TX-2100
· 36-inch imagePROGRAF TX-3100
· 44-inch imagePROGRAF TX-4100
· Multifunctional imagePROGRAF TX-2100 MFP Z24
· Multifunctional imagePROGRAF TX-3100 MFP Z36
· Multifunctional imagePROGRAF TX-4100 MFP Z36