Prytec Solutions Bring Out The Big Gun at Open House
Prytec opened their doors to the public for the first ever viewing of the amazing 1kw PLS-F1515 Fibre Laser, and their comprehensive range of cutting, engraving and milling solutions.

The star of the show was easily the PLS-F1515 Fiber laser. A fully enclosed device, this industrial laser is a metal specialist designed for high speed, precision cutting of mild steel, stainless steel, aluminium and brass and copper. It can be customised to a client's needs, which includes the option of going for a larger 2kw power source or a bigger bed size for increased capacity and production.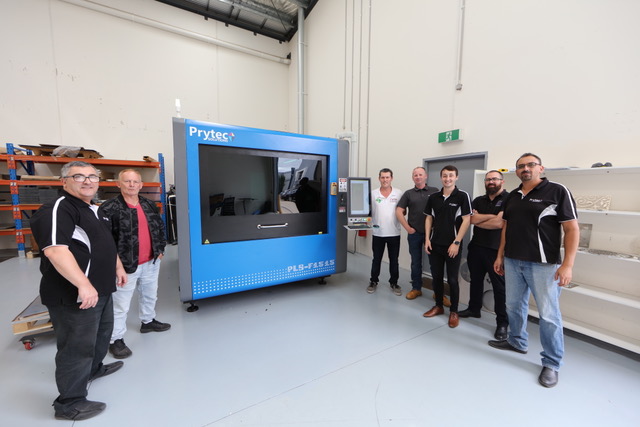 The team from Prytec was on hand to answer questions and run demonstrations on the machine.

Raymond Mikhail, Managing Director, Prytec Solutions, said the new laser system had already done very well, with two larger 1.5 and 2kw models sold and running in Victoria.

"We are really pleased with the interest that has been shown in the new range of industrial lasers from Prytec," said Raymond. "We have models to suit clients that are moving into industrial scale work, right through to those already involved in industrial scale work and looking to expand or upgrade their existing laser systems."

"Given the capability, price and options for this laser system, we see it being the perfect choice for busy sign companies and businesses who are looking for more efficient, accurate methods to cut materials or want to retain more work in-house," said Emanuel Baldacchino, National Sales Manager, Prytec Solutions. "We also believe this laser range will be very attractive to schools, TAFEs and Universities that have a strong Science, Technology, Engineering and Mathematics (STEM) focus. And of course, engineering, manufacturing and fabricating businesses will also benefit from the capabilities the PLS-F1515 and larger variants possess."

Attendees to the open house got to see the 1kw PLS-F1515 Fibre Laser put through its paces cutting intricate patterns through steel sheets in what can only be described as a blistering pace. The cutting capability is excellent. No rough edges remain even after even the most detailed of patterns has been cut. This is thanks to the system's exacting beam placement operated by a high precision, state of the art rack & pinion drive technology and gearbox, direct laser control with PWM (Pulse Width Modulation) and operating system that is very user friendly.

The open house was also a chance to look at the range of additional milling, cutting and engraving systems that Prytec Solutions supply. This included the 60-watt PLS-7050 laser designed to cut and etch all sorts of materials including acrylics, leaving a beautiful polished finished edge, it will also etch text and graphics in high detail. Prytec also featured the PLS-4030 Advanced Laser System that is designed for businesses in need of a laser with a small footprint. Using a 30W Metal CO2 Laser source, the PLS-4030 is compact but still packs a punch. Prytec also supplies a number of the Roland DG systems including the SRM20 desktop milling machine and Metaza MPX-95 photo impact printer and the VersaUV LEF-2series- UV printer.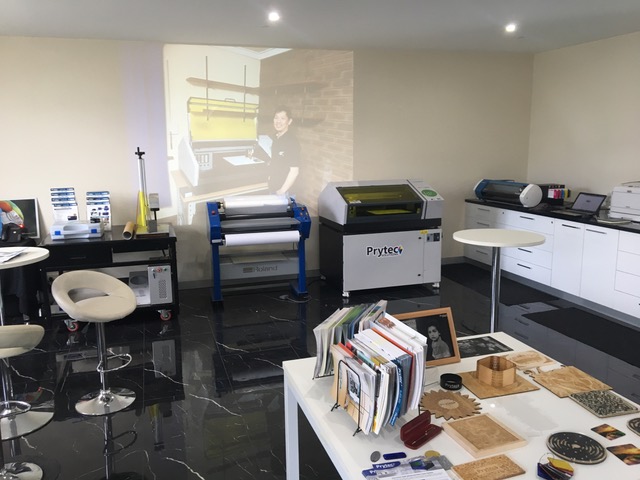 For more information about the technologies, materials and business solutions that Prytec Solutions deliver, you can visit www.prytec.com.au