MUTOH introduces two new high-quality and high-resolution Eco-Solvent Printers "XpertJet 1682SR/1641SR" Newly designed platform ensures easy maintenance & usability
MUTOH announced the launch of the new high-quality and high productivity eco-solvent printers "XpertJet 1682SR/1641SR".

New platform of "XpertJet" series provides improved usability and reduces operational workload. XpertJet 1682SR/1641SR is a new series of MUTOH large-format inkjet printers with a new eco-solvent ink and ensures high quality, high productivity and user-friendly operation.

The "XpertJet 1682SR" is a high-speed eco-solvent printer equipped with a staggered dual print head and capable to express smooth gradation with 7-colour ink set. "XpertJet 1641SR" with 4-colour ink set is a single head model that offers excellent balance of performance, image quality and affordable price range.

The "XpertJet" series has been renewed to the stylish appearance with stealth colour.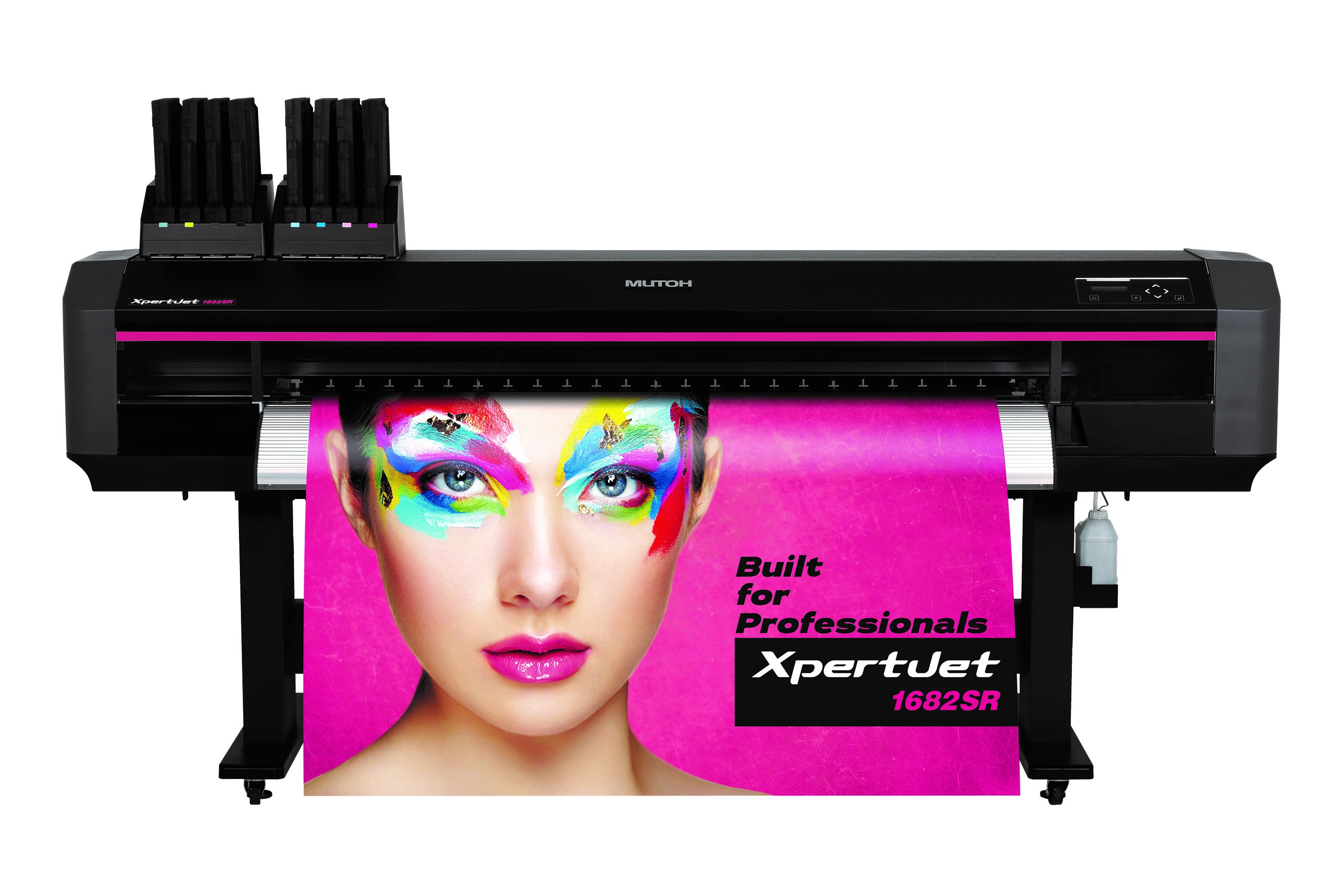 MUTOH's unique multi-stage pressurising mechanism enhances media feed stability for various media by selecting the mode such as high for slippery media, default (middle) for standard PVC sheets and synthetic papers, and "low" for thin and soft media.

Furthermore, media cockling can be minimised by canceling multiple pressure rollers individually.

The XPERTJET SERIES:

- High Precision Aluminum Rail Mechanism for high quality and stable printing
- New design allows high usability for front access to ink cartridge holders, LAN cable and power cables
- The built-in colour sensor achieves "Automatic Bi-Directional adjustment". It saves operational workload for the calibration, and reduces variation caused from individual operators.
- Internal LED lighting helps operator for ease of operating and print status monitoring
- LED warning indicators for each cartridge slot show ink remaining amount status.
- Operation panel which will only display keys necessary for desired function.
- MUTOH Status Monitor allows you to check the printer operation status with a smartphone or tablet even from a distance.
- Operators loading work efficiency is improved by setting the newly developed media flange from both sides. When the flanges have been mounted in advance, it becomes easy and quick to exchange multiple rolls.

The new eco solvent ink MS41 has high colour development and ease of maintenance. In addition to KCMY 4 colours, light colour ink Lk, Lc and Lm are available with 1L bag. "XpertJet 1682SR" delivers high-quality printing even with reduced resolution thanks to the 7-colour configuration.

Following the launch in Japan, "XpertJet 1682SR" and" XpertJet 1641SR" will be released sequentially in the US, EMEA and Asia.

MUTOH delivers the new large-format inkjet printers "XpertJet" series to the market and will continue its efforts to provide "user-friendly operation" to customers.

www.mutoh-au.com