At the opening of Océ Australia's high-tech Customer Experience Centre, Océ took the opportunity to formally introduce the new Océ Arizona 1300 series flatbed UV printer to a gathering of Océ customers and industry professionals.

The new addition to the award-winning Océ Arizona range was one of the highlights at FESPA earlier this month, and guests at the new Centre's launch found it equally impressive.

The latest in the popular and proven Arizona range, the 1300 series is designed for the high-productivity mid-volume wide-format and digital print markets. It delivers innovations in print speed, ease of use and curing technology which Product Manager Garry Muratore says will allow print service providers to do more, do it smarter…and do it now.

"The Océ Arizona 1300 series is a great choice for print service providers in the sign and display graphics industry who want to really lift productivity, versatility and quality," Muratore said today.

"Today's print buyer is not only discerning in terms of quality, but also creative, driving a new wave of innovative print products on an almost limitless range of media and substrates. This is where the Arizona 1300 series delivers in spades."

This affordable machine features productive print modes which can easily expand capacity and throughput for small to mid-range businesses who currently need more speed and quality than their lower-end or older printers can deliver, or who are looking to expand their product range and increase output.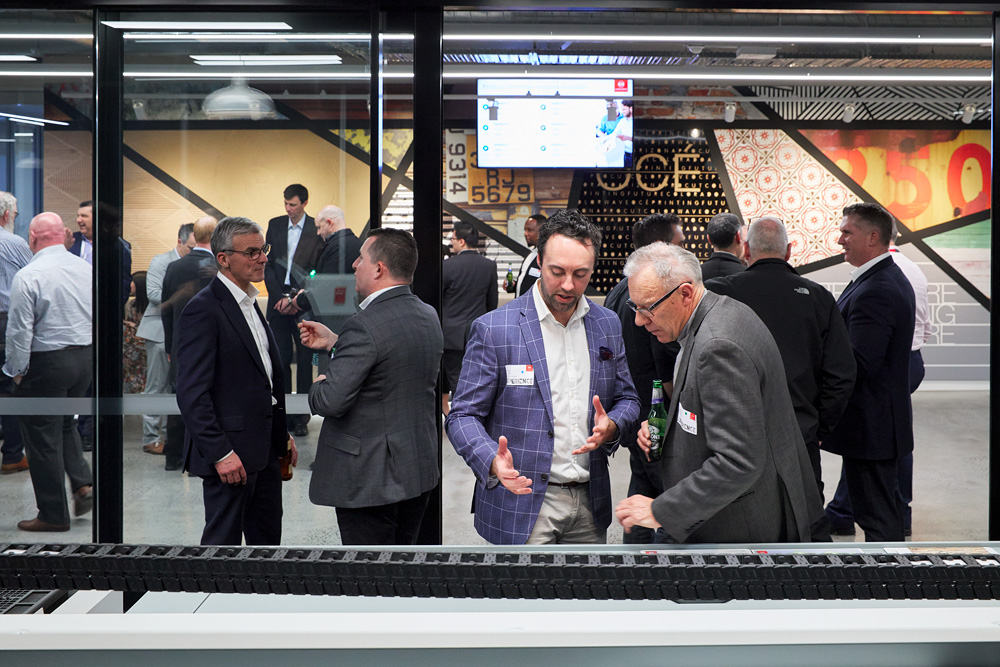 "The new Océ Arizona 1300 series answers the two biggest challenges faced by print service providers today – the need to boost productivity, and the need to diversify their application portfolio to take advantage of new business opportunities," Muratore explains.

According to Muratore, operators will immediately notice the difference on both scores, with outstanding speed and 'mind-blowing' application latitude.

"The Océ Arizona 1300 stands out in its market segment as an easy-to-use, mid-range workhorse which not only delivers exceptional productivity, consistent prints and reliable performance, but uncompromised quality," he says, adding that the range appeals particularly to print service providers interested in high-end applications like photography or fine art reproductions.

"Optional light magenta, light cyan, varnish and Océ's brightest white ink ever, plus enhanced screening come standard and, because all our new LED inks are Greenguard Gold certified, the prints can be used anywhere, even in schools and hospitals," Muratore says.

Like other Arizona models, the 1300 series also supports Océ Touchstone, so printers can easily create textured prints, both transparent and opaque, which Muratore says will 'delight' customers. "And, all these options – additional ink channels, roll media option and static suppression upgrade kit that makes for static and trouble-free printing on hard plastic materials like acrylic, polycarbonate and styrene – can be retrofitted, helping future-proof your business," he adds.

Versatility is also a key, with the Arizona 1300 range easily able to produce flawless imaging to a wide range of media including odd shaped, heavy, smooth or pre-cut media, and even unusual substrates like canvas, glass or wood – a must for print service providers who want to build their business by expanding their product offering to create valuable new revenue streams.

This is married with a range of other innovative features, including an intuitive user interface which makes short work of designing even the most complex, multi-layered projects and allows operators to easily make last-minute adjustments at the printer, such as nesting, batching of complex jobs, step and repeat, mirroring and re-assignment of print modes.

Integrated Océ Arizona Xpert self-learning technology enhances this ease of use, enabling the machine to learn from what its operators do and then remember the 'recipe' to produce consistent, flawless results, time and time again.

"And, importantly, this range is fast," Muratore adds. "All Arizona 1300 models deliver sharp, high-key prints at speeds of up to 53m2/hour. And productivity is boosted even further by innovations like Océ's 'instant-on' capability, a new LED curing system which requires no warm up so the printer is always ready when you are."

Rounding out the package is reliable performance, backed by the Océ Automated Maintenance System which allows hands-free printhead maintenance to restore nozzle function in seconds, and support from both Océ remote service and Océ Australia's extensive national service and support team.

Australian businesses can choose from three GT models (Océ Arizona 1340 GT, 1360 GT, 1380 GT) with a flatbed print area of 1.25m x 2.5m, or three larger 2.5m x 3.08m XT models (Océ Arizona 1340 XT, 1360 XT, 1380 XT).

Customers invited to the opening of the CEC in Melbourne were first to see the new series in action, with an Arizona 1380GT installed at the Centre, but the range is already taking off with Muratore saying Océ expects to place several units in the field in coming months.

www.oce.com.au