From their humble beginnings manufacturing watches, to now creating some of the most advanced print and display technology in the world, Epson has grown into a global leader by constantly innovating and responding to the changing needs of their customers. Just how far the company has come, was highlighted by the launch of a range of new products at Epson's 'Innovation meets Evolution' event in Sydney.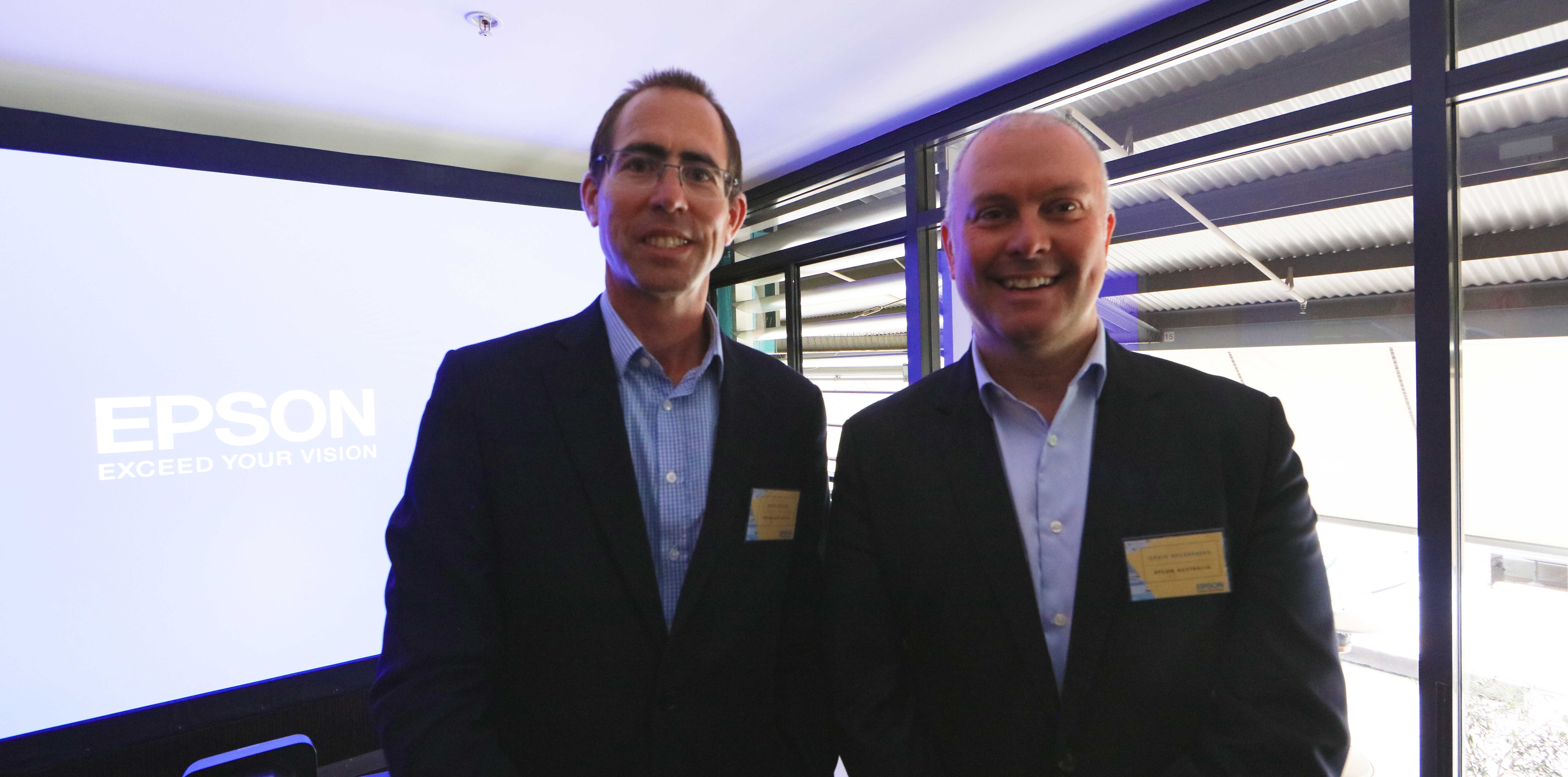 Epson Australia, Bruce Bealby, GM - Sales & Marketing, Consumer Division & Craig Heckenberg, GM Sales & Marketing, Business Division

Epson is a world leader in the field of print, sign and display technology. Their products are among the most popular for the business, professional and domestic markets. And it's a position they will further solidify with a series of new printers developed to respond to the evolving needs of their customers.

Expanding their business portfolio, Epson Australia has launched four new WorkForce Pro printers for busy offices, bringing its signature inkjet technology, with low environmental impact, low intervention and high productivity, to workgroups wanting A4 mono and colour print capability. Two A4 mono devices – the multi-function WF-M5799 and single-function WF-M5299 – and two A4 colour devices – the WF-C579R and WF-C529R – deliver fast, reliable and high-yield A4 business printing with an extremely low total cost of ownership (TCO).

General Manager of the Business Division at Epson Australia, Craig Heckenberg, said, "These laser-beating inkjet printers save money, energy and time, and are packed full of business productivity and document management features. Designed specifically to reduce environmental impact, minimise intervention and streamline workflow, they keep cost-saving at the heart of what they do. The low intervention and environmental benefits make these devices ideal for specialist verticals too, such as education, healthcare, public administration and retail, to meet both their print and corporate social responsibility needs."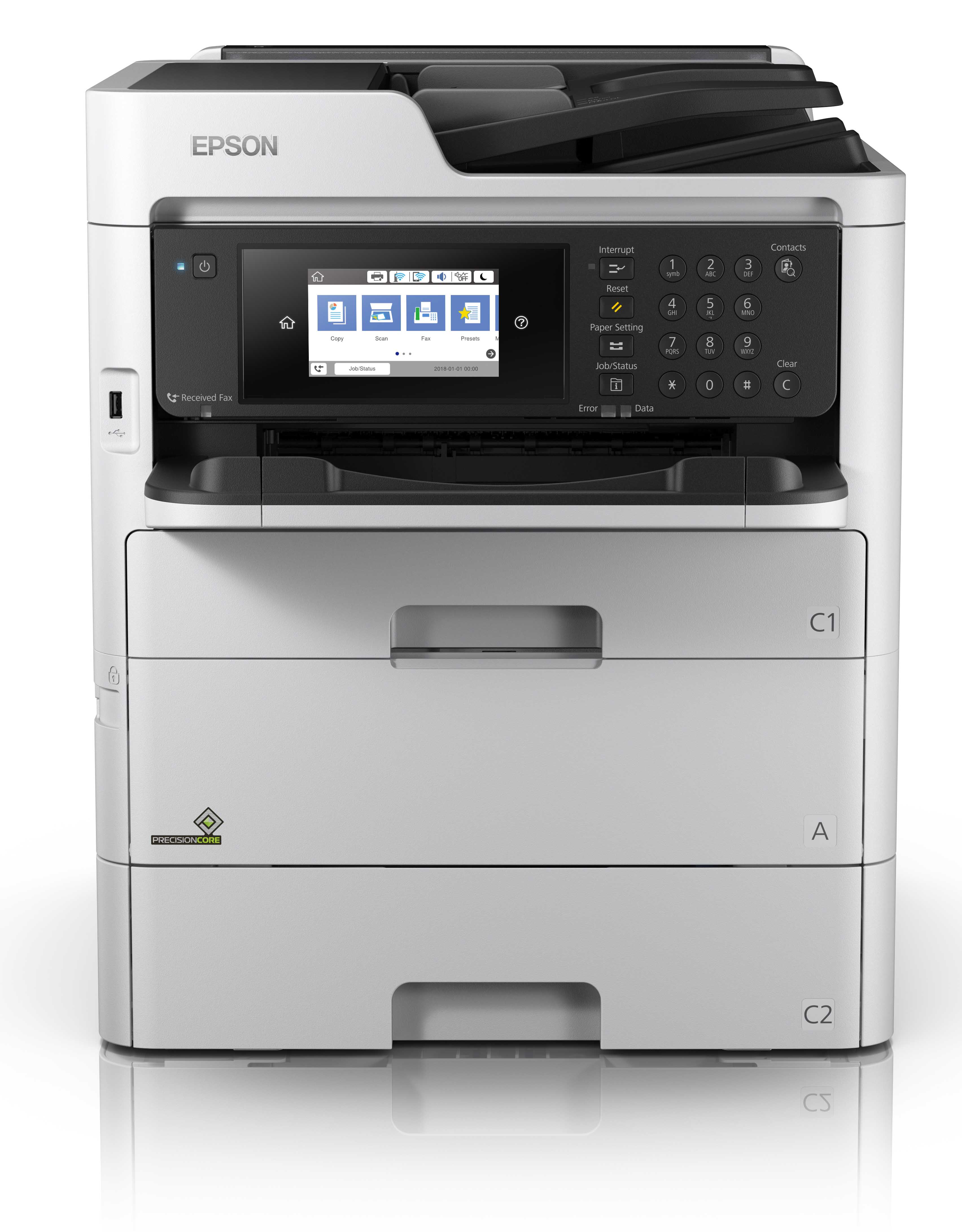 The multi-function WF-M5799 and single-function WF-M5299 printers meet the demands of businesses where a robust mono printing solution is required with a compelling TCO for use in workgroups with a high print volume. Their impressive ink yield of up to 40,000 pages – the highest in the segment1 – helps to deliver this low TCO, while offering minimal user intervention. This not only boosts productivity, but its no-heat and no-warm-up printing process also supports extensive media flexibility that includes labels and envelopes.

These models use up to 87% less energy than comparable laser models2, helping to reduce environmental impact and lowering users' energy bills. All this while still managing a zero second warm-up time and a first page out time of just 4.8 seconds, faster than comparable laser models2.

Offering the same business benefits for colour applications, the multi-function WF-C579R and single-function WF-C529R colour printers also offer potentially significant TCO savings. Their impressive ink yields of up to 50,000 pages for black, and 20,000 pages for each of the colours – amongst the highest in the segment3 – help to deliver this low TCO, while offering minimal user intervention.

Epson is renowned for exceptional colour print quality, and this now extends into these business models. Colour print resolution of up to 4800 x 1200 dpi is best-in-class4, but the specification provides little indication of what this really means
for a business. Eye-popping colour empowers sales and marketing material that can give it the winning edge in a competitive marketplace.

As with the mono devices, these models also use up to 87% less energy than comparable laser models4, helping to reduce environmental impact and lowering users' energy bills.

For businesses and clients needing to print technical information, Epson has launched two new high-speed, easy-to-use large-format printers – the 24-inch SureColor T3160 and the 36-inch SureColor T5160, both are available as desktop or floor-standing models.

Marking Epson's expansion of the T-Series product line to the low-to-mid-range CAD, AEC, GIS, POS poster and education markets, the wireless models feature a new clean and compact design coupled with the reliable printing performance inherent in Epson's technical solutions.




Whether printing blueprints, line drawings, signage, or classroom posters, the SureColor T3160 and SureColor T5160 will assist professionals across a wider range of segments including architecture, engineering, CAD, GIS, education, corporate, home and small office users. The unique auto-switching functionality enables the printers to swap between large format roll paper and A4/A3 size paper, without users having to touch the printer, ideal for small companies that have multi-purpose print requirements in a limited workspace.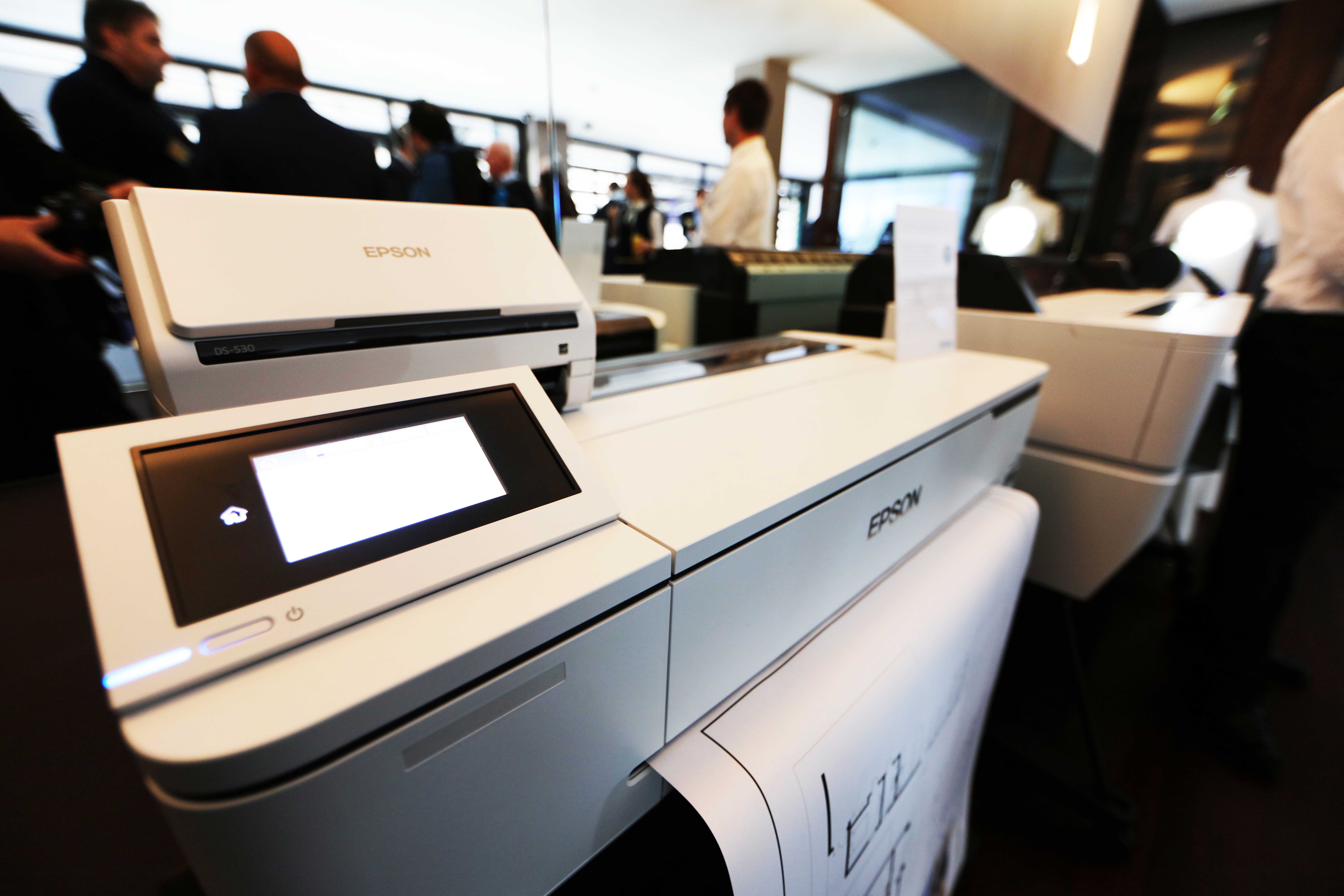 Epson Australia's GM sales & marketing of their business division Craig Heckenberg said, "The SureColor T3160 and T5160 are designed specifically for the technical community including engineers, designers and architects who are looking for a fully functioned and compact printer that fits neatly in their office. These new printers also produce quality colour posters and displays, and they enable users to wirelessly produce accurate and vibrant prints from tablets and smartphones virtually anywhere."

Leveraging Epson's PrecisionCore MicroTFP printhead technology and Nozzle Verification technology to automatically detect and adjust nozzle condition, the new printers offer fast print speeds producing accurate A1 prints in 31 seconds for the SC-T5160 and 34 seconds for the SC-T3160, with precise detail and commercial-grade reliability. Featuring integrated wireless and Wi-Fi Direct connectivity, users can seamlessly print from tablets and smartphones or use the new 4.3-inch colour LCD touchscreen with simple and intuitive menu control and navigation. Next-generation high-capacity UltraChrome XD2 pigment inks deliver durable archival prints with brilliant colour and crisp lines on many paper types.

Epson is famed for their ability to innovate, to see ways in which they can make things easier for their customers. One product in particular stole the show ... the FastFoto – the World's Fastest WiFi Photo Scanner.

You have to see the FastFoto to believe it. This device will scan a regular photos and documents within a second. It is an amazing timesaver. The device is Wi-Fi and is the world's fastest personal photo scanner, scanning thousands of photos – as fast as one photo per second at 300 dpi3 at up to 36 photos per batch.

The FF-680W scanner offers worry-free scanning for a variety of media types and sizes, including postcards, panoramic photos up to 36 inches and Polaroid photos as well as convenient photo restoration, editing and smart file organisation tools.




Families can scan, restore and organise collections of photos for quick and easy sharing, archiving and enlargements with the new FF-680W scanner and with the Easy Auto-Upload feature, the FastFoto scanner software makes it simple to share images to cloud services such as Dropbox® and Google Drive™.

General Manager - Sales & Marketing for Epson Australia's Consumer Division Bruce Bealby said, "There was clearly a need for an ultra-fast and easy scanning solution that enabled people to digitise hard copy photos often stored in albums or boxes and vulnerable to many kinds of irreversible damage. The new FastFoto FF-680W not only saves these photos but also comes with a host of new features, making it easier to save and bring memories back to life using the latest digital technology."

Featuring Epson ScanSmart software, the FastFoto FF-680W scanner is also a powerful document scanner. Using the intuitive software users can easily scan, organise, email and store important contracts, receipts, documents and files. In addition, you can easily edit documents and save time with automatic file naming and use powerful productivity tools such as the built-in Nuance® OmniPage Optical Character Recognition (OCR) which enables users to create searchable PDFs, plus editable Word and Excel® files.

From digitising images to projecting them, Epson is the biggest name in projection equipment. In recent years, the company has looked at ways to immerse their projector technology within interiors, creating a system that is as technically advanced as it is subtle. The answer is the new LightScene EV-100 that is ideal for retail, galleries and museums with a low visual noise design that blends in beautifully to displays and exhibitions.

LightScene

Created to blend into the background with a sleek, conventional lighting design available in black or white, the 2,000-lumen WXGA EV-100 can work as either a projector or a spotlight without distracting viewers from the subject.

The LightScene EV-100's unobtrusive design is ideal for curated visual environments such as retail showrooms, shop window displays, museum exhibits and art installations, where minimal visual clutter is key. It can be used to provide information, show video or moving patterns, and even projection map imagery onto small objects.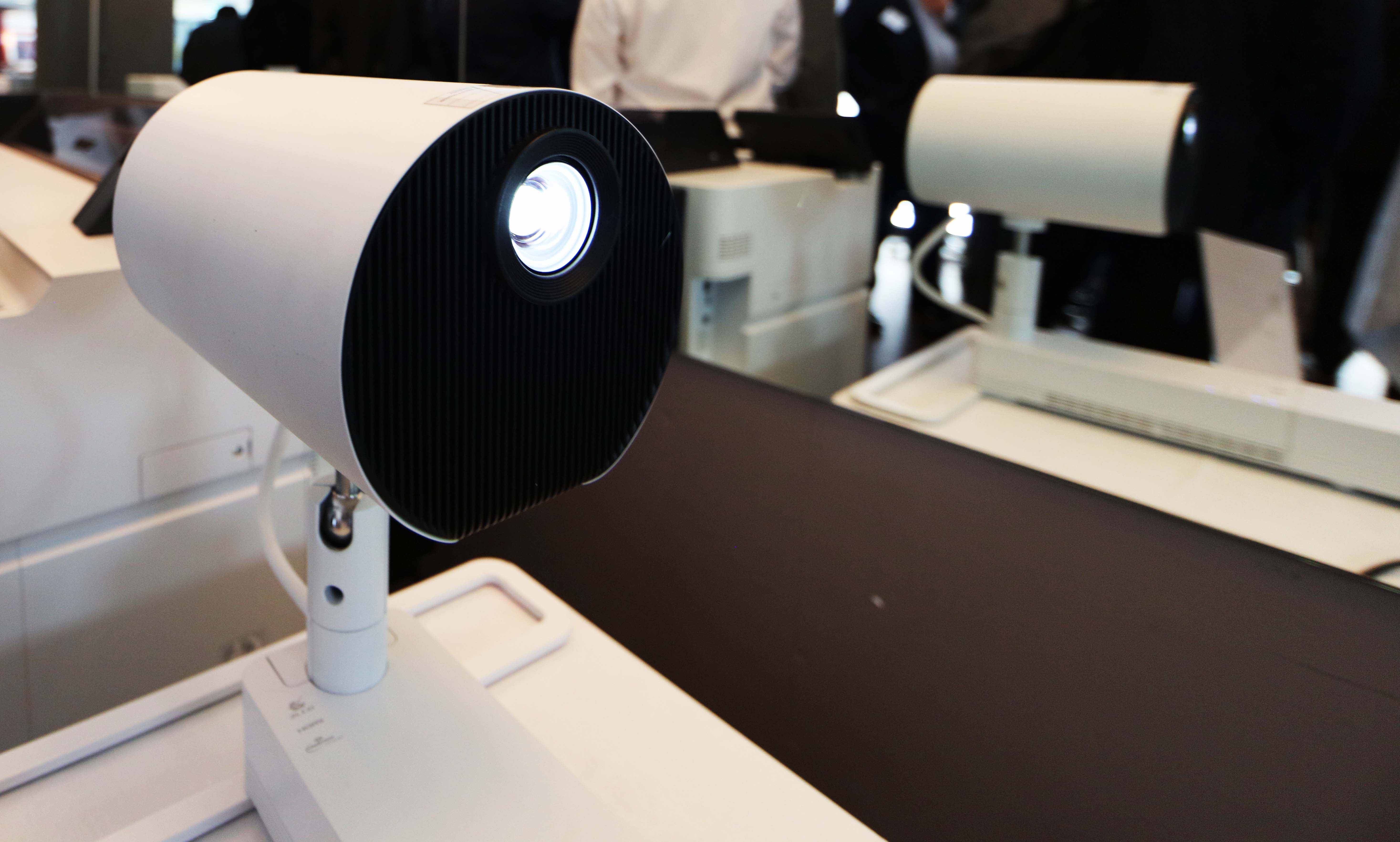 "The LightScene EV-100 is a completely new type of projector solution from Epson Australia and a great addition to our range of laser signage solutions," said Craig Heckenberg. "The design is clearly stylish and visually unobtrusive, without compromising performance, versatility or reliability."

Epson's flexible laser technology gives the EV-100 a huge variety of mounting options – it can project from any angle, be floor-standing or attached to the ceiling, all without requiring specialist installation or set-up. It is also capable of projecting in portrait, and multiple units are capable of edge blending for larger displays.

The LightScene EV-100 is supplied with Epson Projector Content Manager Software, which allows single or multiple playlists to be easily loaded via SD Card and changed using remote control by employees, with no need for a computer. The software also allows you to add overlay effects including colour and shape filters to permit tinted and irregularly-shaped images, as well as creating and editing playlists, timetables and custom filters.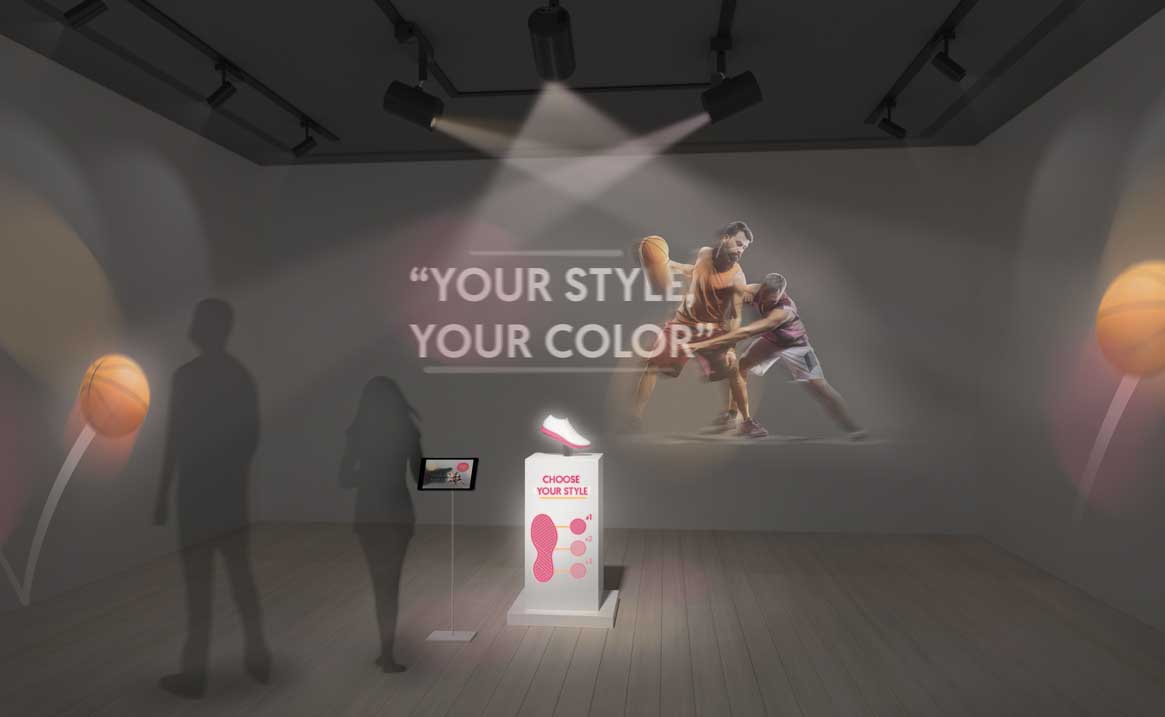 The new additions to Epson's projector range didn't stop there. They have upgraded their big guns, going bigger, better and brighter with three new projector solutions - their new 12,000 lumen native 4K 3LCD laser projector, the EB-L12000QNL, new compact EB-L20000UNL large venue projector and the EB-L600 series, a 5-6,000-lumen entry-level laser projector range.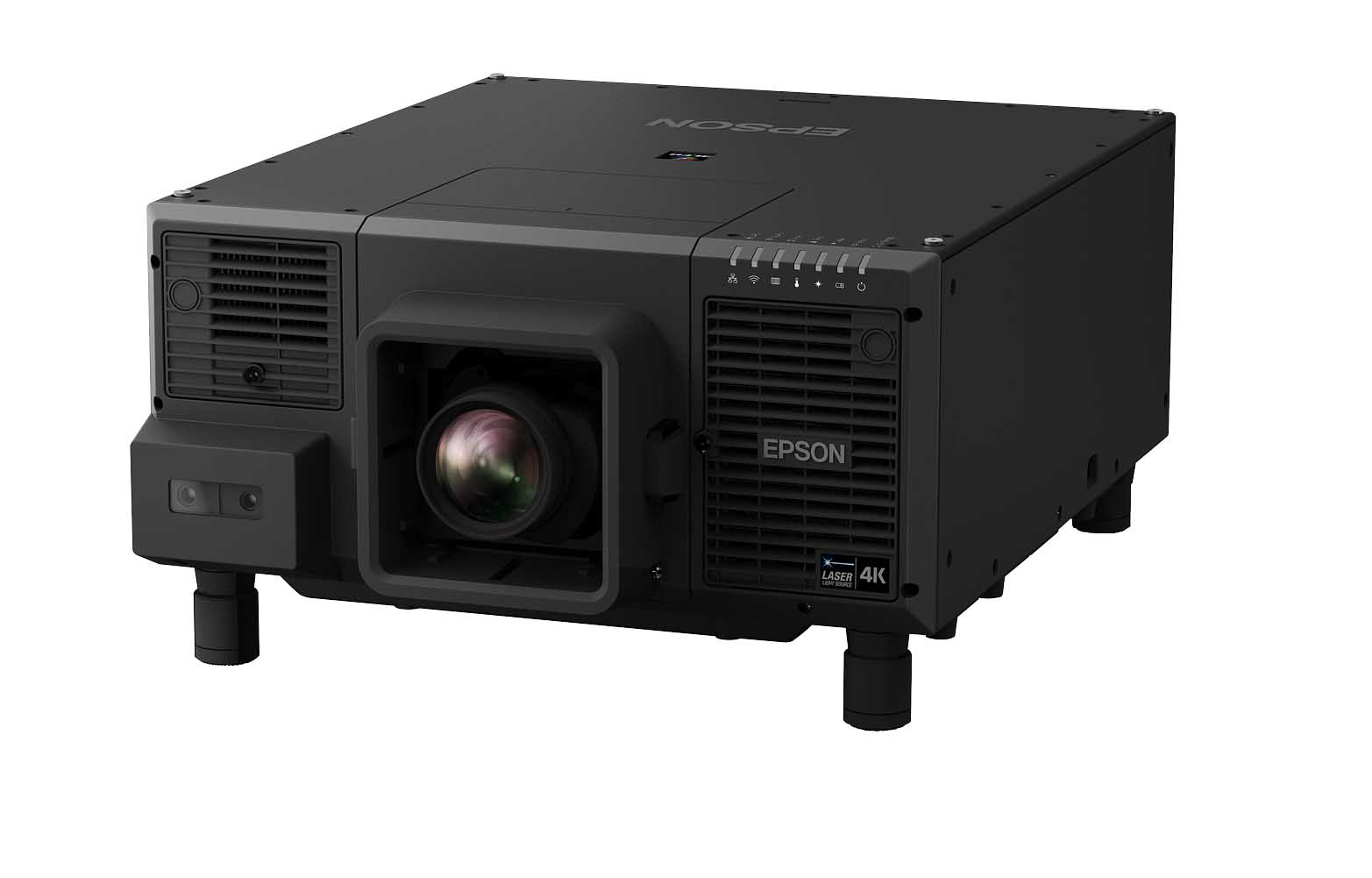 Boasting up to 25,000 lumens of colour and white brightness, Epson's laser projectors are powerful performers in demanding environments, including rental and staging events, lecture halls, and digital signage installations.

The new EB-L12000QNL and EB-L20000UNL models share the same robust, compact and lightweight chassis that makes them easy to integrate into existing infrastructure – a breakthrough at this level of brightness. The new projectors also feature support for HDR, 360-degree installation flexibility and a sealed light source and optical engine to protect from dust and smoke.

Epson's L600 series is a range of 3LCD entry-level laser projectors that offer a number of useful features, as well as fit and forget reliability, presenting users with the ideal, low cost, solution for meeting rooms, teaching spaces and visitor attractions.

This series is designed to replace existing lamp based projectors in scenarios requiring 5,000-6,000 lumen solutions and feature a compact, contemporary design that is small and light. It also boasts advanced installation features such as HDBaseT, wide manual lens shift range and built-in wireless LAN Enterprise Security as added bonuses along with a class leading 5 year manufacturer's warranty.

Epson also have some other really cool gear that they just launched, so stay tuned for more details.